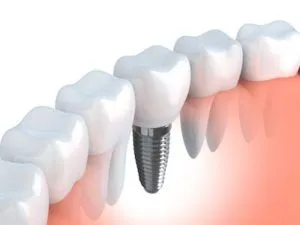 Implant Restorations to Replacing Missing Teeth
Enjoying new teeth is more comfortable and predictable than ever before thanks to our customized treatment options. Instead of wearing dentures or partials, our patients find that dental implants offer a lifelong alternative that looks and feels closer to natural teeth than any other type of restoration out there.
"Am I a Candidate for Dental Implants?"
Dr. Konopka will see you for a consultation to determine whether implants are right for you. She'll thoroughly examine your bone along with x-rays of the area in question. As we discuss which type of restorations are appropriate to meet your goals and expectations, you will have an option to choose the one that meets your aesthetic and function needs.
Should implants be the best option, we will arrange for you to have your implant surgery nearby at Mission Hill Dental on the West Side of Santa Cruz. Dr. Cheng at Mission Hill has extensive experience and training in oral surgery. Bone grafting and soft tissue grafting therapies are also available to help in areas that might not otherwise support an implant.
What to Expect From Your New Teeth
While your surgical site heals, you will wear a temporary prosthesis to retain the spacing and aesthetics. About three to four months later, Dr. Konopka will place the permanent restoration.
Because of how strong dental implants are, they can support:
Single Crowns for Individual Missing Teeth — Single tooth replacement with a conventional bridge results in compromising two healthy teeth to support the restoration. Instead, a single implant can be topped off with a tooth colored crown for easy care and maintenance. Durable BruxZir and Zirconia materials are both strong and aesthetically pleasing.
Multiple-Tooth Implant Bridges — There is no limit as to how many teeth you can replace with an implant supported bridge. We can even replace an entire arch with as few as four implants.
Overdentures/Implant Supported Dentures — An implant retained or supported denture is an easy solution to uncomfortable, bulky prosthetics. They can be supported with as few as two or four implants that clip in and out or are permanently anchored in place. They're a great alternative to wearing a denture that always feels like it's slipping.

Implants vs. Bridges or Partials
Out of all treatments in modern dentistry, implants have the greatest success rate for our patients. There is a 98% success rate when placed properly and well maintained!
Plus, the design of implants mimics the natural anatomy of your real teeth. The artificial roots enhance your bone support, so neighboring teeth benefit from additional stability in the future.
Call us today to schedule your next visit with Dr. Agata Konopka. New patients are always welcome, and you'll never have to feel rushed or pressured into treatment that you don't want. We're just happy to help you improve your smile.
Dental Implant FAQ's
What is a dental implant?
A dental implant is a permanent new root for a missing tooth. It is a titanium screw that is placed into the jaw bone. An abutment and crown is then placed on the implant to provide a new tooth that is permanent and looks just like a natural tooth.
How are dental implants different than dentures?
Dentures are a removable set of teeth or partial set of teeth that need to be removed and cared for in a special manner. They can often feel bulky and are difficult to get used to. Dental implants are a permanent replacement for missing teeth that can be cared for just like natural teeth.
What are the benefits of dental implants?
Dental implants look and feel just like real teeth, they are permanent, you can eat the foods you want without any fear of embarrassment, and they procedure is very successful and fairly inexpensive.
Who can place a dental implant?
Your dentist may be able to perform implants in their own office based on their training. If not, they will recommend you to an implantologist, cosmetic dentist, or another specialist that will perform the procedure.
How much do implants cost?
The price of your dental implants will vary based on the level of experience of your doctor, how many implants you are having placed, amount of insurance coverage, and more. Schedule a consultation with us to determine a price for your implants and a financing plan if necessary.
Do dental implants hurt?
No. A local anesthetic will be given before the procedure so that you do not feel any pain. If you have anxiety or fear you should discuss sedation options with your dentist.
How long do implants last?
When cared for properly, implants should last a lifetime. Proper oral hygiene and regular dental visits are essential to the success of your implant.